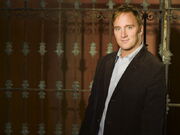 Rick Payne
becomes a professor at Rockland University and marries his wife, Kate. He and his wife live somewhere in Grandview, at some point Kate Payne dies.
At the beginning of season two, Melinda Gordon first seeks Rick Payne's help to save her deceased friend, Andrea Moreno, who is being attacked by dark spirits. She finds him teaching an occult class at Rockland University. She continues to seek Rick's help for various paranormal occurrences throughout the rest of the season. Rick first meets Melinda's husband, Jim Clancy, when Melinda recommends Jim talk to him about a ghost. It is in "The Night We Met" that Rick first questions Melinda about whether or not she believes she has supernatural abilities, as well as meets Melinda's close friend and co-worker, Delia Banks. It is only in the episode "Cat's Claw", that Melinda finally informs Rick of her abilities. Come the season finale, Rick and Melinda are seen working very closely trying to figure out who Gabriel Lawrence, a dark Ghost Whisperer, really is. Rick, Jim, and Melinda go as far as breaking into Gabriel's home. It is also revealed that Rick's wife, Kate, is a ghost who works for the dark side.
The character joins the main cast in season three. Come the beginning of this season, Rick appears to be worried about Melinda after her near death experience. He also works a large deal more with Melinda on some things. In "The Weight of What Was", Rick, Jim, and Delia all travel into old Grandview to try finding Melinda. Jim and Delia are aided by a ghost named Tessa, who is an ancestor of Melinda's, and locate the trapped Melinda. Rick also helps Melinda search town death records for information about Tessa, who at the time Melinda believed to be Gabriel's mother, though a group of ghosts attempt to stop them from finding anything. In "Double Exposure", Rick's date and co-worker, Claudia, is haunted by a ghost who makes it so she cannot appear in any pictures.
In the fourth season premiere, Rick left Grandview for a new important find in the Himalayas. He said he would be back, and he and Melinda hugged. He drove off, leaving Melinda in tears.
Relationships
Edit
It seems Rick had somewhat of a crush on Melinda when they first met, clearly embarrassed by everything he said to her, afraid it might sound stupid. The crush went away after he met Jim, Melinda's husband. But after her near death-experience, he seems to maybe or maybe not have been secretly in love with her. Hence leading him to leave.
Ad blocker interference detected!
Wikia is a free-to-use site that makes money from advertising. We have a modified experience for viewers using ad blockers

Wikia is not accessible if you've made further modifications. Remove the custom ad blocker rule(s) and the page will load as expected.