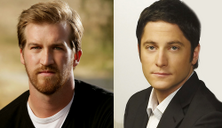 Sam Lucas is a character from Ghost Whisperer.
Sam Lucas dies in a car crash. His spirit moves on to the light and Jim's spirit takes over. When Jim enters Sam's body, he cannot remember Melinda or anything else about his previous life. As the series continues, he starts to have flashbacks, for example, when he was in the hospital, he saw someone who had a wound on his shoulder. This triggered a memory of him being shot.
Ad blocker interference detected!
Wikia is a free-to-use site that makes money from advertising. We have a modified experience for viewers using ad blockers

Wikia is not accessible if you've made further modifications. Remove the custom ad blocker rule(s) and the page will load as expected.